Opening hours
Monday & Wednesday
9am – 1pm
3pm – 8pm
Tuesday
8am – 1pm
3pm – 8pm
Thursday
9am – 8pm
Friday
9am – 4pm
At Ortodoncia Tres Torres Barcelona we want to make everyone smile! For this reason we offer our clients the best payment options we can. The price of your braces is calculated on a case-by-case basis and depends on the treatment you choose: lingual, Invisalign or  brackets.
The right treatment for you
We are specialists in Orthodontics. Let us analyse your case and recommend which treatment would best fit you. You will see that in just a few months you will have the smile that you always dreamed of. Make an appointment with no commitment. Once we have diagnosed your problem we will let you know how long the treatment will take and how much will it cost.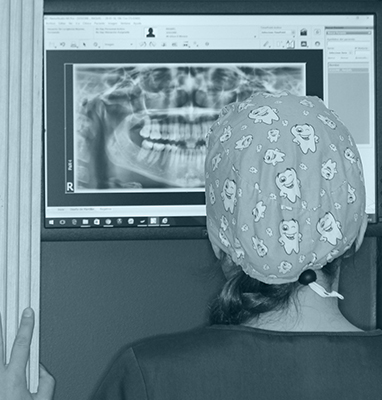 Prices
Your first visit is free of charge and with no commitment. This is when we get to know you and make the diagnosis.
The price depends on the complexity of the braces we use. Although each case must be analyzed in a personalized way depending on different factors and other external conditions, as a guide we can offer you a table of the different orthodontic prices. We will quote you a  fixed price with no added extras:
Palate expander from €1500
Interceptive removable from €1500
Brackets from €2500
Invisible lingual from €4000
Invisible Invisalign from €3450
Choosing the right treatment is basic for the patient to achieve the smile he has always wanted. The price of the orthodontic treatment do not depend only on the technique used, the equipment and its complexity, but other variables such as the duration of the treatment and the inherent costs of each brace will determine the final price.
For example, a fixed orthodontic treatment is not the same as a removable orthodontic, which is why the prices can not be the same either. In fact, when it comes to analyze the type of orthodontic braces to choose, sometimes, it is necessary to address previous dental or periodontal treatments that must be taken into account, both by the orthodontist and by the patient.
Ortodoncia Tres Torres Barcelona team, specialized in pediatric and invisible orthodontics for young people and adults, will analyze your case in a first consultation for free. In this first visit, after a brief questionnaire about your general and dental health, we performed extraoral and intraoral photos and, after a clinical examination, we evaluate the malocclusion and explain you:
The problems present in the teeth, bones and / or face
The need for prior dental or periodontal treatment
The different orthodontic alternatives
The duration and the closed price of the treatment
Now you can start your treatment and in a very short lapse of time show your new smile.
 Special discounts
At Ortodoncia Tres Torres Barcelona you can benefit from special prices
in your treatment and in the successive treatments of your relatives.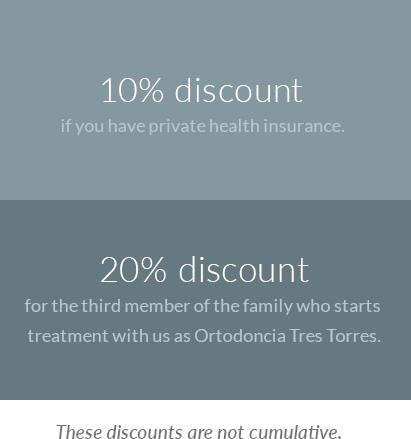 0% finance
At Ortodoncia Tres Torres Barcelona pay for your treatment will not be a problem. We offer each patient a personalized finance without interest and without the need to provide any type of documentation.
Make an appointment with no commitment! We will quote you a fixed price for your treatment that you can pay in easy monthly dues with 0% finance.
Make an appointment now! Find out what treatment we recommend and how much your braces will cost.
CALL US 934 142 312 OR IF YOU PREFER WE CALL YOU
Make an appointment and we will study your case without obligation. You will not have to pay anything for this first visit.