Opening hours
Monday – Thursday
9am – 1pm
3pm – 8pm
Friday
9am – 4pm
Invisible lingual braces help correct the position of your teeth. Because they are invisible and on the tongue-side of your teeth, nobody will notice you are wearing braces. As each patient is different, your treatment will take into account your own individual needs. At Ortodoncia Tres Torres Barcelona we specialize in invisible braces, and will tell you if lingual braces are the best option for you. Once we have diagnosed your problem and told you how long possible treatment will take, we will quote you a fixed price with 0% finance. Make an appointment with no obligation!
Characteristics
of lingual
braces
1
Fixed apparatus, attached to the
tongue-side of the teeth.
3
Period of
adjustment between
10 and 15 days.
4
Minimal discomfort /
interference
when speaking.
5
At Ortodoncia Tres Torres we use a pioneering system
developed in Japan with smallest lingual braces on the market.
And the most comfortable!
6
Invisible braces are ideal for adult patients, 
especially for those complex cases
that cannot be treated with Invisalign.
 How do lingual braces work?
We take precise impressions of your teeth. These are then used by a fully trained lab technician who makes a mock-up of what the teeth will look like at the end of treatment. All wires and braces are created specifically for the patient. When the braces are finished, we will arrange an appointment for you to come in and have them fixed on the tongue-side of your teeth. You will soon get the smile you have always wanted without anyone noticing you are wearing braces!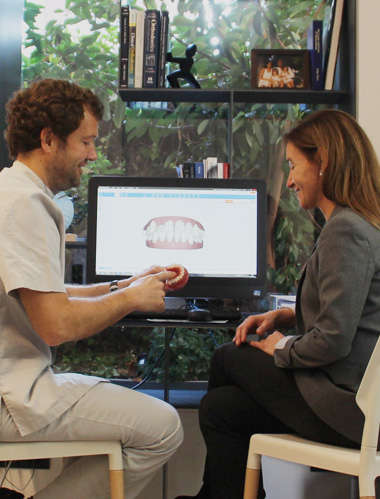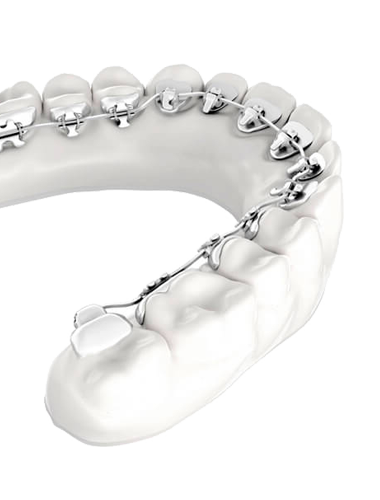 Lingual braces are the most discreet
Lingual braces are the most discreet and aesthetically pleasing option we can offer as each brace is tailored to each tooth. We use very fine braces that are attached one by one to allow natural movement; something that other types of braces cannot offer. This type of brace gives the most noticeable results. Patients treated with lingual braces can see a difference from the first day of their treatment and can track the changes in their teeth as the apparatus is placed along the entire inner side of the teeth.
Creating the model and virtual simulation of lingual braces
We use the most advanced technology to create our braces, which allows us to make accurate impressions of your teeth in just 5 minutes, without the use of uncomfortable putty. With this 3D imagery, x-rays and facial and dental photographs, the orthodontist can make an accurate diagnosis and treatment plan.
Next, a mock-up is created to help design and make each individual dental aligner. With this mock-up the patient can also see the future results of the treatment.
The main advantages of lingual braces over Invisalign braces is that the former are totally invisible and that they can be used for other dental treatments, such as extractions. Invisalign braces are the perfect solution in many cases, but they do not work efficiently in shifting dental roots. Invisalign braces are not able to close the gaps where a dental extraction has taken place. In addition, when lingual braces are used, veneers to fill holes after dental extractions can be inserted.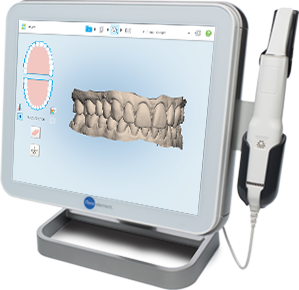 Lingual braces are the best option for adults
Lingual braces are the perfect solution for adults between the ages of 20 and 60. The majority of people who can be treated with regular, visible braces can also opt for the i invisible lingual braces.