Opening hours
Monday & Wednesday
9am – 1pm
3pm – 8pm
Tuesday
8am – 1pm
3pm – 8pm
Thursday
9am – 8pm
Friday
9am – 4pm

Invisalign are the ultimate invisible braces. They correct the position of the teeth with transparent, removable and very comfortable aligners so that no one will notice you are wearing them. With Invisalign, you can wave goodbye to the awkward metallic, fixed brackets.
As each patient is unique, your treatment will take into account your own individual needs. At Ortodoncia Tres Torres Barcelona we specialise in invisible braces, and will tell you if Invisalign braces are the best option for you. Once we have diagnosed your problem and told you how long possible treatment will take, we will quote you a fixed price with 0% finance.
Make an appointment with no obligation!
Characteristics
of Invisalign
braces
1
Invisalign braces are removable – they can be taken off and put on, allowing you to eat and brush your teeth with ease.
2
Extremely comfortable and
do not rub or create sores.
3
Transparent Invisalign aligners are almost invisible. They should be changed every 15 days and gradually move the position of the teeth.
4
An average of 5 days
to adjust to the braces.
5
Minimal interference
when speaking.
6
The likelihood of contracting an inflammation of the gums is less likely with Invisalign than with other types of braces, as you can remove the brace before brushing your teeth.
7
It is possible to play
wind instruments.
8
Fewer patient visits that last a shorter period of time.
9
Patients who live outside of Barcelona can have a consultation via Skype.
10
At Ortodoncia Tres Torres we use the most advanced technology to generate 3D virtual images of treatment results.
11
Invisible braces are ideal for adults as they are practically invisible and can be removed for important events.
3D virtual images of Invisalign braces
Using a iTero 3D Element intraoral photo scanner, we take the impressions of your teeth in just 5 minutes. This means that you do not have to hold your mouth open for a long time, stay in awkward positions or use with uncomfortable printing pads. A highly accurate 3D simulation is created showing how your teeth will be aligned after using the Invisalign braces.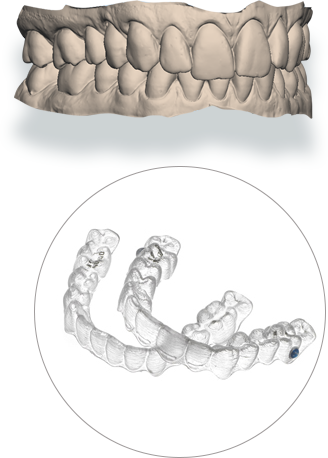 Invisalign braces are very efficient
The digitalisation of the Invisalign treatment is a breakthrough and ensures greater efficiency. The innovative ClinCheck software allows the orthodontist to plan your treatment on digital models to ensure that the braces will achieve the desired result. One individual brace can move one or more teeth by up to 0.25mm. By replacing each aligner with the next one in the series, your teeth will gradually straighten out, until they reach their final position.
Invisible Invisalign braces shift teeth in a fully controlled way and are highly recommended for patients with gum disease. Invisalign braces are an excellent option for patients who have previously undergone orthodontic treatment without obtaining the expected results.
Also, with Invisalign braces we can place aesthetic veneers to hide gaps after dental extractions.
Invisalign braces are ideal for adults
Invisalign are the perfect braces for adults, recommended for patients who value their appearance and have limited time. Invisalign braces require fewer visits to the clinic and appointments are kept short. The transparent, removable aligners are so comfortable that your life will barely change when wearing this type of brace.

All you need to know about Invisalign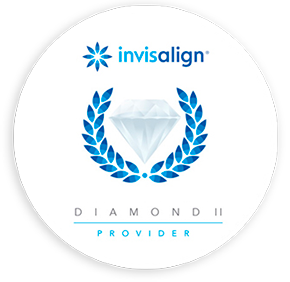 At Ortodoncia Tres Torres we are experts in Invisalign braces. Unlike other dental clinics that also offer Invisalign, we understand the biology behind the movement of teeth and how to correct them. This means we know what is possible to correct, thereby helping you avoid costly Invisalign treatments with little outcome. Only a qualified orthodontist, specialised in invisible braces can offer suitable and effective orthodontic treatment.
Our Invisalign clinic in Barcelona has the Invisalign Diamond II Provider, the highest category awarded by Invisalign worldwide on account of the many cases we have treated successfully.
If you want to know more about Invisalign, we have created a website for you, dedicated exclusively to this innovative type of invisible brace. Go to www.invisalignbarcelona.com
CALL US 934 142 312 OR IF YOU PREFER WE CALL YOU
Make an appointment and we will study your case without obligation. You will not have to pay anything for this first visit.